Latest topics
»
new flood 2018 فلود جديد يعمل على جميع انواع نكات لفلود القديمة والجديدة
by
christian777
Fri Oct 20, 2017 6:20 am
»
STEALTH PROJECT WEB FLOOD NIMBUZZ
by
djsaim
Sat Sep 30, 2017 8:51 pm
»
XIO server & online bots
by
ltc_mkt
Mon May 29, 2017 8:12 pm
»
فریباز دوباره برمیگردد
by
Mer+sad
Thu Apr 06, 2017 3:34 am
»
Xio Server Updated Elite Version
by
lekshmi321
Wed Mar 29, 2017 11:35 am
»
Join MulTi id nimbuzz 2016
by
sami-alarifi
Mon Dec 05, 2016 3:09 am
»
انجمن تیم امنیتی آنانیموس سکوریتی
by
shirsefat
Thu Nov 17, 2016 6:12 pm
»
Xio Server Latest Version
by
shirsefat
Thu Nov 17, 2016 6:04 pm
»
amooZesh kamele hack dar yek file pdf
by
shirsefat
Fri Nov 11, 2016 2:23 am
»
CRACKER IDS 2017 WORKING
by
abdo-osmana
Sat Oct 29, 2016 1:43 am
»
NEW ... ROOM ANTI CAPCHA 2017 DESTROY ROOMS V 4 BY AL-JOOOCKER@N.C
by
abdo-osmana
Sat Oct 29, 2016 1:41 am
»
NEW FLOOD ROOM AND PV 2017 ANTI CAPTCHA
by
abdo-osmana
Sat Oct 29, 2016 1:30 am
»
add new server Work 24 hours --- تحديث حسابات السيرفرات قم بــاضافه السيرفرات الجديده تعمل 24 ساعه
by
abdo-osmana
Sat Oct 29, 2016 1:28 am
»
new auto id maker
by
sandy_rawat
Tue Oct 04, 2016 4:24 pm
»
wonderful list id arbic for crucker اكبر ليستة ايملات تخمين جديدة
by
christian777
Sun Sep 25, 2016 12:59 am
»
New Abdo Cobra Auto Id maker Source code working
by
Kash007
Sat Sep 24, 2016 10:26 pm
»
oon ghadima!!!
by
ras0l
Mon Sep 19, 2016 12:38 am
»
2000 id flood free
by
christian777
Sun Sep 18, 2016 3:54 am
»
new ip address changer with crack@pishaash@n.c
by
cebecis
Sat Sep 10, 2016 3:19 am
»
تجسس على الخصوصية
by
majed5160
Thu Aug 25, 2016 3:26 am
»
سلام دوستان من
by
majed5160
Wed Aug 24, 2016 3:10 am
»
Trusted online server bots
by
bom
Fri Aug 19, 2016 7:59 pm
»
فلود جديد ناررررر
by
christian777
Sat Aug 13, 2016 10:12 am
»
Receive Captcha in PVT C# and VB.NET source code available
by
wathk
Thu Jul 28, 2016 3:01 am
»
Attention nimbuzz users !
by
-namakul-
Tue Jul 26, 2016 8:27 pm
»
Salam man az karbqraye qadimiton hastam lotfan komakam konid :(
by
SALIJON*
Sat Jul 23, 2016 6:34 pm
»
Nimbuzz stylish ids for sale
by
msb
Wed Jul 20, 2016 12:33 pm
»
Nuke Mobileserver V9
by
launchar
Tue Jul 19, 2016 1:51 pm
»
help me please c sharp masters
by
launchar
Tue Jul 19, 2016 1:39 pm
»
salam be dostane qadimi hamgi join bedin bebinm kojain :P
by
ghaz_ghaz90
Sat Jul 09, 2016 12:22 am
»
Xio Server Update
by
ghaz_ghaz90
Fri Jul 08, 2016 11:15 pm
»
Xio Auto Capcha ID Maker ( FASTEST IDMAKER EVER)
by
karthik~ajay
Thu Jul 07, 2016 10:59 pm
»
All web defacers and SQLi hach
by
mitu143
Thu Jun 16, 2016 1:24 pm
»
special daface pages FreeBuzz-Team
by
mitu143
Thu Jun 16, 2016 12:59 pm
»
Meet A Stranger Room Advertizer BoT
by
lekshmi321
Sun Jun 05, 2016 5:14 pm
»
NEW STEALTH PROJECT WEB FLOOD NIMBUZZ
by
gentarbumi
Sun Apr 24, 2016 10:08 pm
»
Moving the write using HTML تحريك الكتابة باستخدام جافا سكرييت
by
faris.jra7
Sat Apr 23, 2016 11:40 pm
»
فلود غرف النيمباز
by
saeid
Sat Apr 16, 2016 12:43 am
»
How to Show Hidden Files and Folders In Windows 7
by
i_am~the_best
Fri Apr 15, 2016 8:45 am
»
How to Earn Money Online From PTC Sites
by
i_am~the_best
Fri Apr 15, 2016 8:43 am
»
Create Id and Chat
by
star.iraq
Sun Apr 10, 2016 2:51 pm
»
Addlist DC + hanger + remote v2.0
by
oye
Tue Apr 05, 2016 9:18 am
»
XIO ADD FLOOD V.2
by
lekshmi321
Fri Mar 25, 2016 8:37 pm
»
XIO BAN BOT V.5
by
adnan sami khan
Fri Mar 25, 2016 11:52 am
»
Fast ADD FLOOD AFTER NIMBUZZ UPDATE
by
lekshmi321
Mon Mar 21, 2016 2:37 pm
»
FLOOD REPEAT NINJA V3 2016
by
radar-2012
Sat Feb 20, 2016 6:37 pm
»
ALMzor-G For making identity + passports to confirm f.a.c.e.b.o.o.k accounts
by
radar-2012
Sat Feb 20, 2016 6:35 pm
»
NEW WEB FLOOD NIMBUZZ - STEALTH PROJECT
by
gentarbumi
Fri Feb 12, 2016 11:41 pm
»
Separation and destruction devices
by
adnan sami khan
Wed Feb 10, 2016 6:02 pm
»
Where can I get the file hash
by
abas1213
Sun Feb 07, 2016 2:11 pm

slm khedmate dustane azizkhob chand vaqti mishe roye noskheye androide in server dashtam kar mikardam va belakhare tunestam ta inja beresunamesh va fkr konam ta 16 farvardin mahe 1393 amadeye estefade baraye kole user ha beshe ! ye seria gofte budan in messengeri ke darim baraye gushi misazim ya baraye pc ro bezarim vase forush !! vali man in harfo qabul nadaram vaqti mikhaim kari konim yek messenger ta mizane jahani shodan pish bere bayad az kheili chiza bezanim pas tamame noskhe hai ke az Blackcat baraye anvae gushi ha va pc o mac o linux share mishe be hich onvan puli nist va hich mahdudiati ham nadare. servere blackcat tavasote 3 barname nevise server va yek modiriate forushe server va az yek teame barname nevisi ke daran vase in messenger faaliat mikonan be suarte 24 saate poshtibani mishe!! ba tavajoh be darkhasti ham ke az user haye freebuzz dar rabete ba noskheye pce in messenger dashtim az aqaye sabuory va golpesar khahesh kardim ke in messenger ro ta akhar donbal konan va har chand vaqt noskhe haye jadidi az in ro dakhele site rasmie blackcat.ir baraye download qarar midim va tebqe gofte shun ta chand ruze ayande noskheye pc amadast !!ta chand ruze ayande ham forume rasmie blackcat be addresse blackcat-tools.ir kare khodesho shoru mikone.ye seri ax az mizane pishrafte barname nevisie in messenger baraye android amade kardam ke mitonid dar zir bebinid :Login Page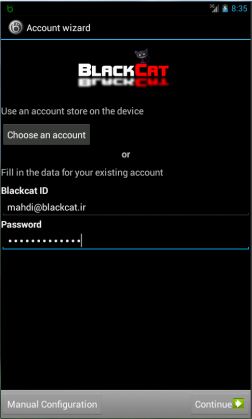 --------------------------------------messageboxe marbut be waiting

--------------------------------------Register Page Blackcat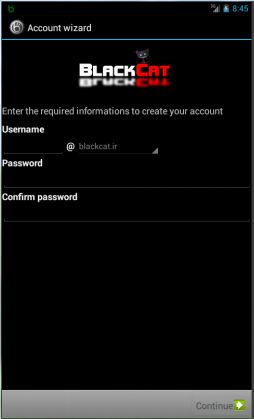 -------------------------------------Page Profile User

-------------------------------------Page Add Contact

-------------------------------------bazam hast vali hanuz takmil nashode, harvaqt amade shod mizaramesh toye site ke download konid!bavar konid age goruhi va ba hamdg kar konim mitonim baese pishrafte keshvaremun beshim ...Comming Soon ...> 
vaghean goftan Poli Kon ? 
unvaght ki gharare bekhare o biad chat kone?
mardom aghl nadarana
Nice mahdi jan 
Chat room option also have ??

Rasolahwazi

Member





Posts

: 1325


Points

: 634


Thanked

: 23


Join date

: 2013-06-26


ASL

: Name Rasol Age 25 Islamic Republic of Iran City Ahwaz


Nimbuzz Id

: Rasolahwazi@Nimbuzz.com and rasol@Nimbuzz.com Only rasolahwazi@n.c add Please do not add to the IDI rasol@n.c http://rasolahwazi.blogspot.com



bara chi vaghtetono sarfe  neveshtan soft bara nim mikonin  nemidonam !
khub , shuma ke vaghteshu darid . estedadesham darin
  chera vase server irani nanevisin ? vase nimi minvisin ke 50 darsad userash iranie o ye admin irani nadare
mahdi  +

suorosh

Member





Posts

: 136


Points

: 1994


Thanked

: 2


Join date

: 2012-08-14


ASL

: :S:S


Nimbuzz Id

: teryak@n.c suorosh@n.c



nice mahdi jan khaste nabashi
Nice dash mahdi omidvarad moafaq bashi dash golad 

---
Permissions in this forum:
You
cannot
reply to topics in this forum